" SEQ Concrete Cutting caters for large-scale commercial and residential projects in Brisbane "
Concrete Cutting, Drilling, Sawing, Demolition
Concrete Cutting in Brisbane
Proper concrete cutting demands precision and expert manoeuvring of high-quality equipment. Our team of trained concrete cutters can work on any concrete cutting project to ensure exact cuts are made at the exact depth.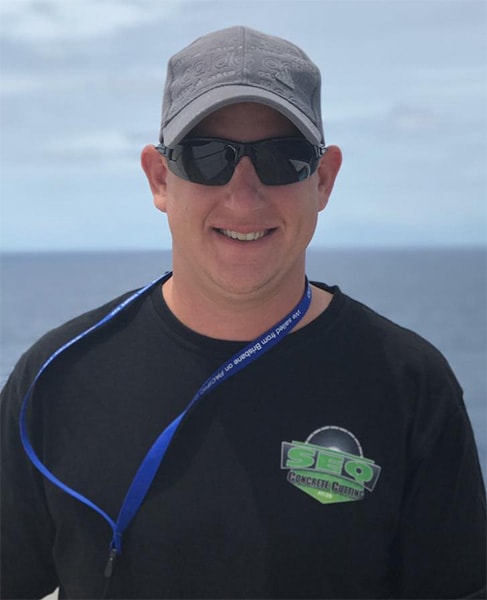 Why our clients trust us!
Fully insured with public liability and workers compensation policies
Personalised service creating a relationship with our clients
Over 10 years industry experience
Fully equipped to service any sized project
Competitive pricing to suit most budgets
We guarantee our work
Environmentally and safety compliant
We specialise in internal fume-free cutting
Experienced in the petroleum and supermarket industries
Fast and free no obligation quotes
Jourdan and his team are the epitome of professionalism and we wouldn't use anyone else for our concrete cutting requirements. Always on time and bend over backwards to fit in with their clients needs. We couldn't recommend them enough!
Jourdan and the team are second to none when it comes to service and I've been dealing with them for almost a decade.



Awesome guys, arrived on time did a great job at a competitive price!




Hi Jourdan, just a thank you note for the work the boys did yesterday. Very professional and friendly. Great job. thanks.



Our no obligation quotes are fast, free and detailed!
Address: PO Box 7013, Loganholme, QLD 4129
SEQ Concrete Cutting in Brisbane
SEQ Concrete Cutting should be your first choice when you're looking for a local Brisbane concrete cutting solution. Having been in operation for ten years, our qualified, hands-on and expert knowledge of concrete cutting and drilling is immense. You can trust us to provide your business with quality diamond core drilling, hydraulic and high-frequency sawing and chainsawing services – to mention a few.
Diamond Core Drilling
Our diamond core drilling penetrates through any material, including asphalt, concrete, heavily reinforced concrete, natural stone, and brick. We also perform inverted drilling, inverted hydraulic drilling and stitch drilling.
Concrete Demolition And Removal
Request our demolition and removal services when you need to shape or demolish any structure. It includes steel exposure, cutting down pylons and pillars, driveway cutting and suspended demolition. Once the job is complete, we remove and dispose of all debris in a safe, compliant and environmentally friendly manner.
Flush Cutting And Chain Sawing
We've invested in the best flush cutting equipment in the industry that can cut to any depth, on roads, flooring or walls. The chainsaws we use have diamond-impregnated chains for flush cutting reinforced concrete, masonry and brick.
Concrete Scanning
Ground penetrating radar is the latest in concrete scanning, allowing us to map and identify what lies inside and beneath concrete slabs. We can locate electrical cabling, conduits and pipes, and steel or post tension cables before even touching the surface.
Hand And Ring Sawing
Hand and ring sawing is used in areas with limited access that traditional equipment can't reach. It is used in small-scale floor and wall sawing, cutting windows and doorways, as well as for cutting footpath and slab removals, curbs and extension joints.
Road Sawing, Floor Sawing, and Soft Cutting
For large-scale infrastructure and road work, we use the latest road sawing and soft cutting equipment to cut up to 500mm down into asphalt, concrete slabs, and pavements.
Hydraulic and High-Frequency Sawing
Our hydraulic and high-frequency sawing equipment is fume-free, compact, easy to use and manoeuvre and efficient. This fast working and effective machine is perfect for flush cutting, window, and wall penetration, as well as large-scale trenching.
Whether you need a single solution or more than one, SEQ Concrete Cutting is your concrete cutting solution for any size of projects. Contact us today to find out more about our services.
CONCRETE SCANNING

We are proud of the things we do here at SEQ Concrete Scanning. We provide safe, non-destructive, and quality workmanship at all times.
Critical to job site safety, concrete scanning can effectively locate and identify objects within the concrete, thanks to the technology used such as x-rays and ground-penetrating radar (GPR). These technologies enable us to penetrate concrete in a safe, non-invasive manner and let us detect and determine its composition, its structure, and even other forms of concrete.
Why do Concrete Scans?
Safety is the main reason for doing concrete scans – be it for safety on a job site, a current property, or location – concrete scans help ensure an added measure of high-quality standard at all times and this includes even before your project starts.
Concrete scanning allows us to identify any wear and tear and other anomalies that can be present in concrete and compromise the integrity of a structure. And we all know how important structural integrity is – once this gets compromised, we are not only risking damage to property but also bodily harm and even grave injuries.
Don't skip concrete scanning
Concrete scanning can help shed light on any complex engineering or structural issues as quickly as possible. Forgoing this process means courting risks – dangerous construction processes, compromised infrastructure that can lead to cave-ins or collapse, and even faulty service lines (electrical and plumbing that can lead to electrocution and flooding) that can cause injury and even death.
Our Process
At SEQ Concrete Scanning we don't take any shortcuts. Whenever we do our concrete scanning, we make sure to thoroughly check for the following:
Cracks and voids

Total slab thickness

Post tension cables

Conduits on non metallic objects

Rebar (cover and diameter that is +/-2mm)

Exit hole locating
Get your project started – get in touch with us now!